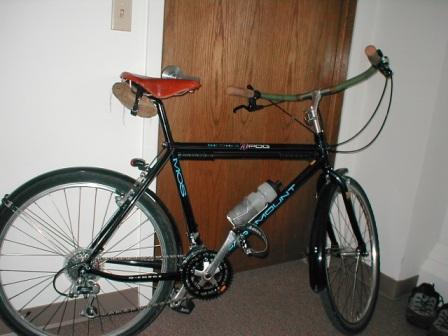 Grant would be proud.
Bike #10 was a Schwinn Paramount mountain bike. It was the "PDG" series, some which were lugged and made in Japan (mine) and others that were TIG'd and made in Taiwan.
This was a great bike. I bought it from Recycled Cycles and it was set up with all original components: mid-90's XT everything. Nice stuff.
It was about 2003 or maybe 2004. I bought this bike right before we moved back to Spokane. I was spending a lot of time reading iBOB, which leads to Rivendell. This was a good segue into cycling as an adult in that it didn't push me into the "you must race to be serious" adult rider. I still think the most "serious" of cyclists are those that ride day in and day out through all weather.
And I see with way too much frequency, adults coming back to cycling and immediately being sold the "race lite" schtick. And I think it mostly sucks, cause a lot of that race-derived stuff takes a lot of fun out of cycling for some people (not all!). The *only* reason cycling works for me as long-term thing is that it's just friggin fun.
Off the box...
Anyway -- Petersen got in my head, as he does. And so as soon as I got this Paramount, I tore the bars off it and put some Albatross bars on it. His holiness, GP, is not the only one to blame for this -- I really had some wrist and and numb finger issues from my cross-state tour that made me afraid of straight bars.
So, the Paramount became my daily commuter when I moved to Spokane.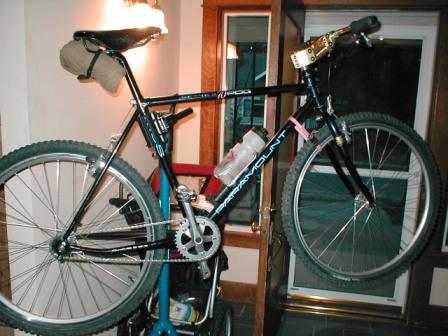 Yes, that's a Softride. I still think they're rad. So there.
Then I got Bike # 11 (wait for it...), which became my commuter, and the Paramount was turned into my first single speed mountain bike. And for that it ruled. Though I was still around 240 pounds, so I had pretty limited range on that thing. But in theory it ruled. And in practice it did rule. I rediscovered the HD trails on this bike and was thankful. Verily.
Here's my pre-blog webpage on the Paramount
.